Overview of Services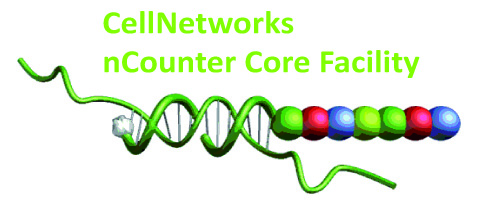 The nCounter Core Facility has been established to provide access to one of the current state of the art target gene profiling technologies for the Heidelberg University research community. It is supported by the Excellence Cluster Cell Networks and the DFG (German Research Society).
Our service includes samples quality control (QC), hybridization, samples processing, nCounter analysis, data QC and temporary storage and data delivery.
Data analysis by the nCounter Core Facility includes QC. For detailed data analysis nanoString provides the nSolverTM Analysis Software. This programme enables quick and easy QC, normalisation, and analysis of data without the need to purchase additional software packages. Furthermore, data visualisation including box plots, heat maps, scatter plots, violin plots and histogrammes is possible.
The nCounter system from Nanostring Technologies is a complete, fully automated system for the next generation of digital gene expression analysis.
The nCounter system is an instrument designed for multiplexed measurement of gene expression using fluorescently labeled reporter probes, so called 'codesets'. The codeset probes are ca 100 bases in length. Therefore, the system is very resistant to lower RNA quality and is perfectly suited for critical samples such as FFPE (formalin-fixed, paraffin-embedded) samples.
Applying a unique coding technology enables direct counting of individual RNA molecules across all levels of biological expression, with sensitivity and specificity comparable to Real Time PCR (RT PCR). The main advantage is that no enzymatic reactions are involved, in particular no reverse transcription is necessary.
Applications:
mRNA Profiling
Custom set of genes or off-the-shelf preassembled panels (details on NanoString website).
miRNA Profiling
Comprehensive collection of more than 700 human and human-associated viral miRNAs as well as murine miRNAs derived from miRBase (details on NanoString website).
Scientists interested in using the facility are welcome to contact us by mail at: n.counter@med.uni-heidelberg.de



Leadership
Dr. Stefanie Schmitteckert, Acting Head of Facility

Tel: 0049 (6221) 56-35274
Email: stefanie.schmitteckert@med.uni-heidelberg.de
Dipl.-Ing. Ralph Röth, Technical staff
Heike Kuzan, Technical staff
Tel: +49 6221 56-34472
Email: n.counter@med.uni-heidelberg.de
Location and Hours of Operation
Hours - Staffed

Hours - Sample Submission

Location

MON - FRI 9:00 - 17:00

Upon prior consultation

Department of Human Genetics
Heidelberg University Hospitals
Im Neuenheimer Feld 366, 5th Floor, Room 523
69120 Heidelberg
Fon +49 6221 56-34472; Fax +49 6221 56-8884
E-mail: n.counter@med.uni-heidelberg.de
Links and Resources
For more information, please visit:
The nCounter Core Facility Official Website
Save
Save
Save
Save
Save
Save
Save
Save
Save
Save
Save
Save
Save
Save
Save
Save
Save
Save
Save
Save
Save
Save
Save
Save
Save
Save
Save
Save